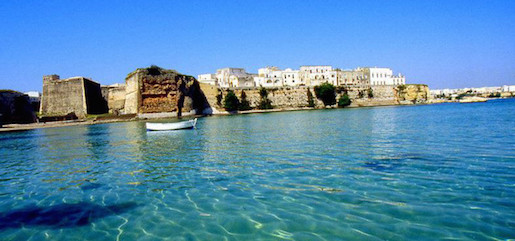 The city of Otranto is a little city full of history. Every corner of the city has a trace which testifies to the passing of different civilizations:
the Romans, the Byzantines, and the Aragoneses. It is also famous because of the sacrifice of 800 martyrs by the Turks in 1480. The historical centre is still in very good condition: it has a renowned cathedral and an Aragonese castle, and a beautiful harbour, that make it one of the most interesting cultural destinations in Salento.
Otranto and its area is one of the highest culturally developed zones in the whole of the Southern Italy. Furthermore, its geographic position ensures natural convenience of visiting other countries in the Mediterranean area. Otranto is easy to reach: by local railway (FSE) to Lecce which is served by frequent Eurostars and IC trains from Milan and Rome. Travel time from Lecce to Otranto is approximately one hour. All the participants arriving by plane at Brindisi Airport can reach Lecce, Mazzini Square by a bus departing near the arrival hall exit at Brindisi Airport. Moreover Brindisi is frequently connected to Rome and Milan by Alitalia and Airone airlines. However, the local organisation of the Conference will provide a bus shuttle from Otranto and Lecce throughout the duration of the Conference.