Tour 2
Beyond Baroque: Tour in the countryside S. Maria in Cerrate Abbey, and the proud Acaya Castle
Tour scheduling: Tuesday, 24, 9:00 – 17:30
Price: 35 € per person
Minimum of participants: 20 persons
Two wonderful discoveries: an ancient Abbey and a medieval Castle.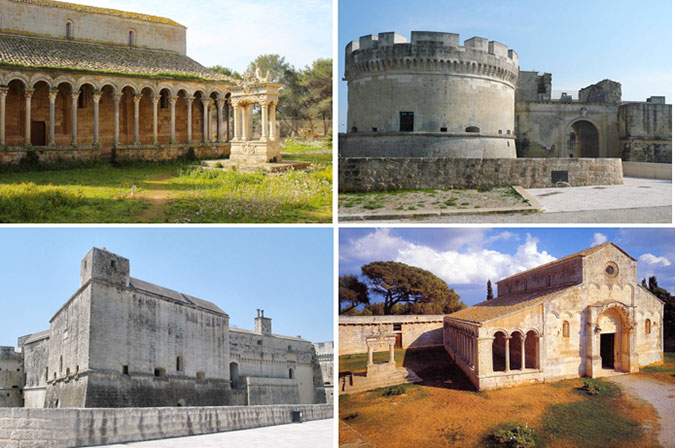 Program
9.00: meeting at the Grand Hotel Tiziano.
9.30: departure for Santa Maria di Cerrate and visit the Abbey.
According to the legend the Abbey of Santa Maria di Cerrate in Lecce was founded by King Tancredi of Altavilla whom appeared the Virgin Maria after chasing doe in a cave.
Dating back to the Twelfth Century a time when it hosted a group of Basilian Monks with time became one of the most important religious centers in Southern Italy. In 2012, finally, the Province of Lecce, after holding a public call, gave the Abbey to the FAI in thirty-year concession becoming, so, the first well Foundation in Puglia.
15:00: departure for Acaya Castle and guided tour. The heart of the settlement is a good example of the few fortified villages left in Puglia, and its layout was planned to optimize defense and survival capabilities. The street pattern dates back at least to the 16th century and divides the village into rectangular islands.
The center consists of six streets laid out in a regular pattern, parallel with each other and running roughly from north to south, all with a width of four meters, all but one some seventeen meters apart, and almost all having the same length. From east to west, three streets run at right-angles to the six north-south streets, one each at their south and north ends and one across the middle, making all of the streets orthogonal. The important buildings, such as the castle and the church, are built outside this grid of streets, the castle standing a little way off to the south-west.
The village lies some kilometers from the Adriatic Sea and the public natural Reserve "Le Cesine".
17:00: departure for Lecce, at the Grand Hotel Tiziano meeting point.
17.30: arrival in Lecce at Grand Hotel Tiziano.
Price includes:
Transport by bus from Lecce to Cerrate e Acaya
Sightseeing Gallipoli City Center
Guide and tour director, entrances