Tour 1
Lecce History and Art Tour with visit of Carlo V Castle
Tour scheduling:
Monday 23, 15:00 – 17:30
Wednesday 25, 15:00 – 17:30
Price: 15 € per person
Minimum of participants: 10 persons
A guided exploration of the historical center of Lecce, with time for visiting the the Carlo V Castle.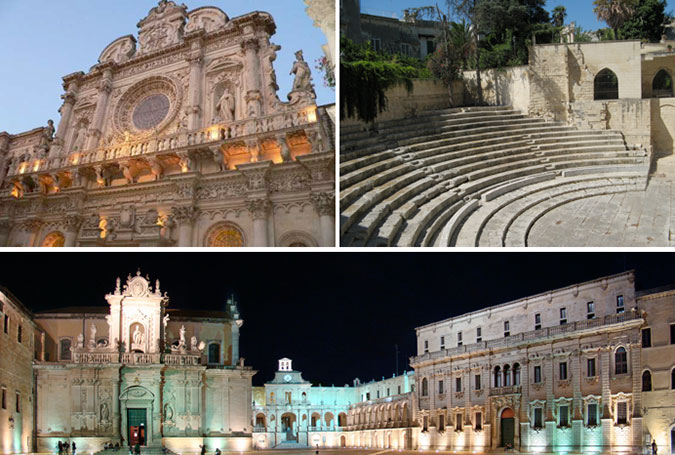 Program
15:00: meeting at the Grand Hotel Tiziano.
15:15: departure for the tour within the city.
At the entrance of the old town there are the two oldest gates: Porta Rudiae, leading to the ancient city of Rudiae and Porta Napoli which had been erected in honor of Emperor Charles V, who had never visited the Baroque city.
In the heart of the city there is the famous Piazza Sant'Oronzo with the Roman Column on which there is the statue of the Patron Saint of the city and the Seat, a splendid architectural structure of the Renaissance Period.
A few meters away there is the beautiful proof of the value of Rome, the Roman Amphitheatre, historical and artistic home of the crib in December and many cultural events.
Symbol of the splendor of the city is the Piazza Duomo, where you can admire the wonderful Cathedral, the Bell of about 70 meters high and the Bishop's Palace and Seminary.
Palazzo of Celestini, Palazzo Adorno, the Baroque churches of St. Anne, St. Irene, St. Clare, St. Matthew, St. Cross and the Greek Church are full of innumerable cultural significance.
17:00: the tour continues in the basement and the dungeons of Carlo V Castle.
17:30: end of the guided tour in Piazza S. Oronzo.
Price includes:
Sightseeing Lecce City Center
Guide and tour director