Tour 3
Guided tour of Gallipoli
Tour scheduling: Wednesday 25, 9:30 – 16:00
Price: 35 € per person
Minimum of participants: 20 persons
Treat yourself to a walking tour in the city of Gallipoli, one of the most important and beautiful of Salento.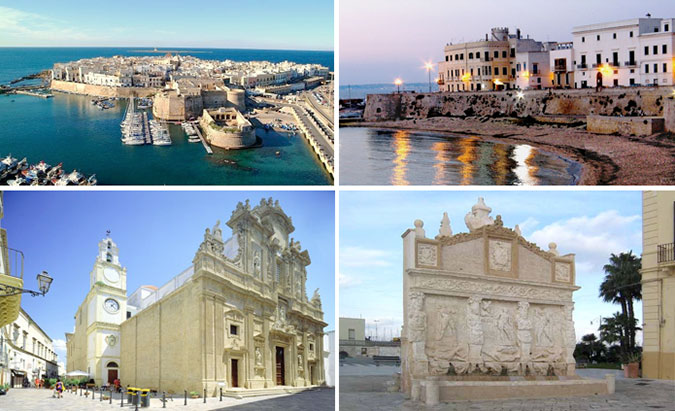 Program
9.30: meeting at the Grand Hotel Tiziano.
10.00: departure for Gallipoli.
10.40: arrival in Gallipoli. Its good position on the sea made it one of the most important harbors of the Salento coast, and the port of Gallipoli was the focus of a great trade, the old town reminds its origins in the Greek colony.
The walls full of history and art, the elegance of restructuring, make it, one of the most popular destinations in the city of Gallipoli and all the Salento.
The tour begins at the gates of the old city, in front of the Greek Fountain, an example of Renaissance style inspired by the ancient world.
Crossing the bridge between the historic center of the new town you can enter in the heart of the city protected by the castle.
Walking along Via Antonietta De Pace you can arrive at the Cathedral dedicated to St. Agata, a Martyr of Catania, whose relics arrived in Gallipoli.
You can also go through the narrow streets of the city admiring old historic residences and courtyards.
15.20: departure for Lecce.
16.00: arrival in Lecce at Grand Hotel Tiziano
Price includes:
Transport by bus from Lecce to Gallipoli
Sightseeing Gallipoli City Center
Guide and tour director, entrances
There will be also 1 hour free time for individual program, shopping